Trying to use a 2.5GbE laptop, to get SMB Multichannel does not appear to work
So I was doing some testing with SMB multichannel, and was attempting to recreate Synology's setup here: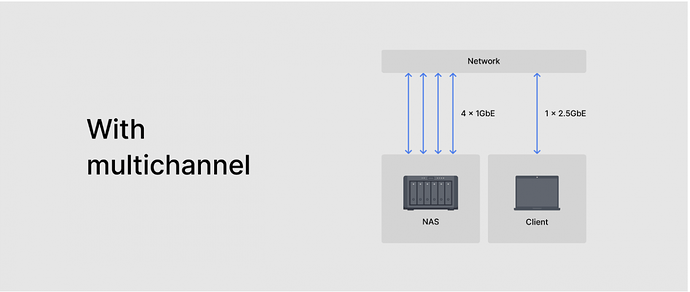 From their blog post here. This clearly shows being able to use 1x client NIC to still get SMB multichannel goodness, however their knowledge base article here appears to disagree.
My testing:
So I attempted to do exactly that (well 2x 1GbE rather than 4x, but close enough).
What I did:
Plugged 2x 1GbE connections into a 10GbE Switch from NAS
Plugged 1x 2.5 GbE Connection from switch into laptop (macOS)
Enabled SMB Multichannel on both client and server
Results:
Here are is the output of smbutil multichannel -a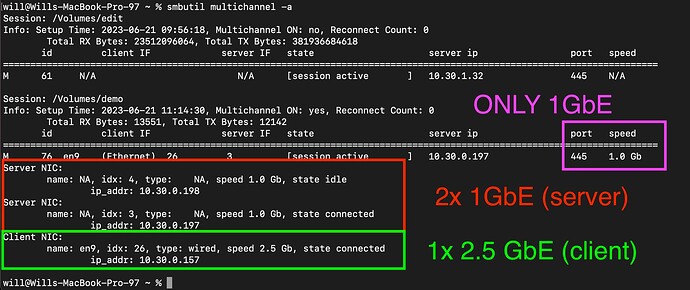 As you can clearly see, macOS sees the 2x 1GbE connections on the server, however is still negotiating with only 1x stream, due to the fact that there is only 1 NIC on the client. The end result is that even though the setup could easily have 2 GbE connection, it is not negotiating to that. From this image: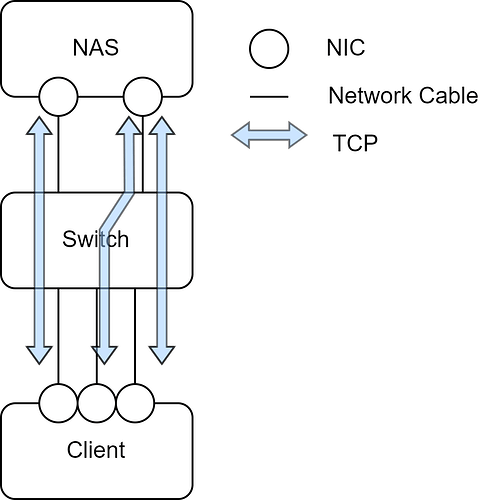 it does look like 1 NIC can support 2x TCP streams to different client NICs so this could work. I am not sure if this is a macOS issue or a windows issue.
Could someone on windows try this and let me know?