Overview
You cannot use quick connect when backing up a NAS using hyper backup. Instead Synology recommends you use port forwarding, and DDNS. However if you do not have the ability to do port forwarding on the remote backup destination (because you have StarLink or any other CGNAT) this becomes impossible.
However you are able to use the free tier of TailScale to do this.
This was in response to a post by @ranord50
How to use Hyper Backup over TailScale on Synology
Step 1: Install the TailScale package on both Synology's
You can do this fairly easily using the package center, and signing in with the same google account. You will get a 'TailScale' IP which will be 100.x.y.z for both NAS units.
You will also want to disable key expiration on TailScale for both units
Step 2: Setup DSM to see the TailScale network
Due to increased security since DSM 7 Synology does not allow packages to add routes (by default). This would mean that while you can connect to the Synology over TailScale, the Synology cannot see anything on TailScale. Meaning it would not be able to send the Hyper Backup, to the remote Synology.
But TailScale has a solution for this! Follow the steps in this article (starting at Enabling Synology outbound connections) on the NAS you want to Backup
The Synology will be able to communicate outward on the TailScale network.
Step 3: Run the Hyper Backup job
Now its easy! Install Hyper Backup on the NAS you want to backup and Hyper Backup Vault on the backup unit.
Next just create the backup task as you normally would, following the steps in this video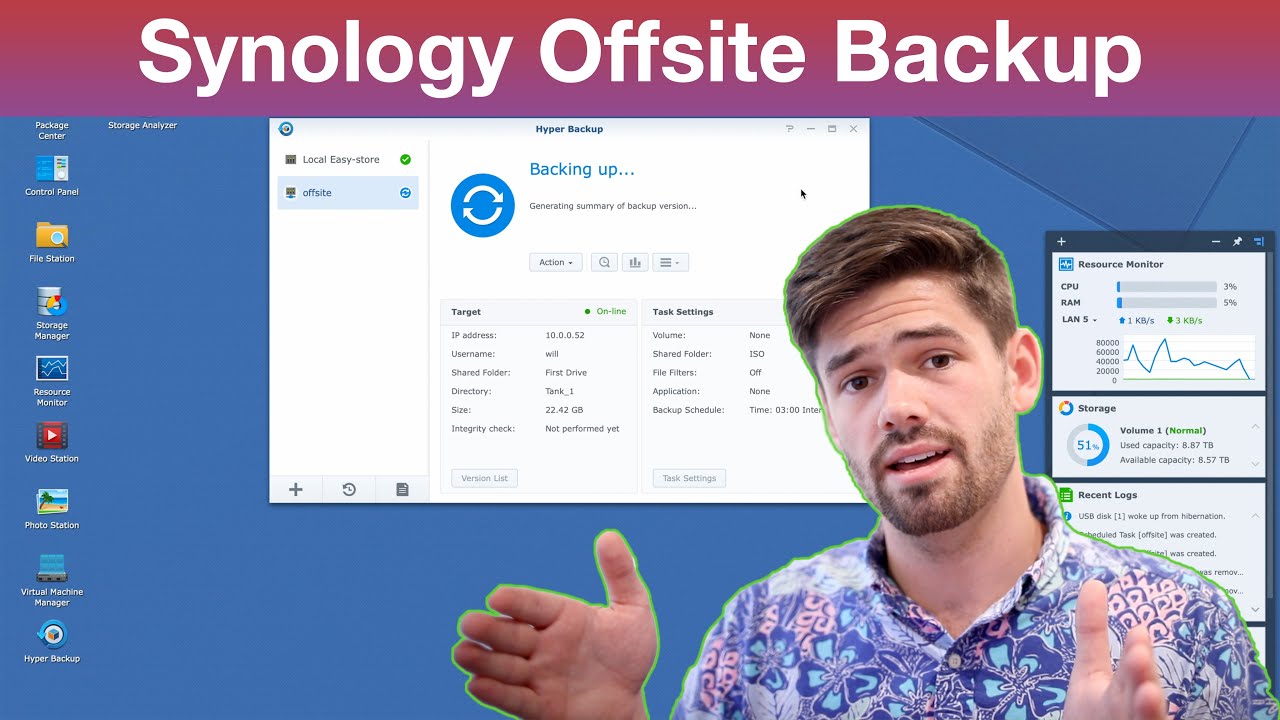 When you input the 'Remote NAS IP' enter the 100.x.y.z TailScale IP of the backup unit.
And you should be done!